FInd your unique sound
Collection One - Pebble
The only one with this pattern.
⸻ It's one of one.

Gomi Speaker
Regular price
Sale price
$372
Unit price
per
ONLY 1 AVAILABLE
SOLD
Handmade in Brighton, UK
Bluetooth 5.0 and AUX connectivity
30+hour battery life
USB-C fast charging, (charging cable included, wall plug not included)
Pair two gomi speakers for full stereo
Full range neodymium driver
100% waste-plastic case / second-life lithium batteries
Over 50% fewer CO2 emissions than comparable speakers
⸻
2 YEAR WARRANTY AND REPAIRS FOR LIFE
30-day money-back guarantee
View full details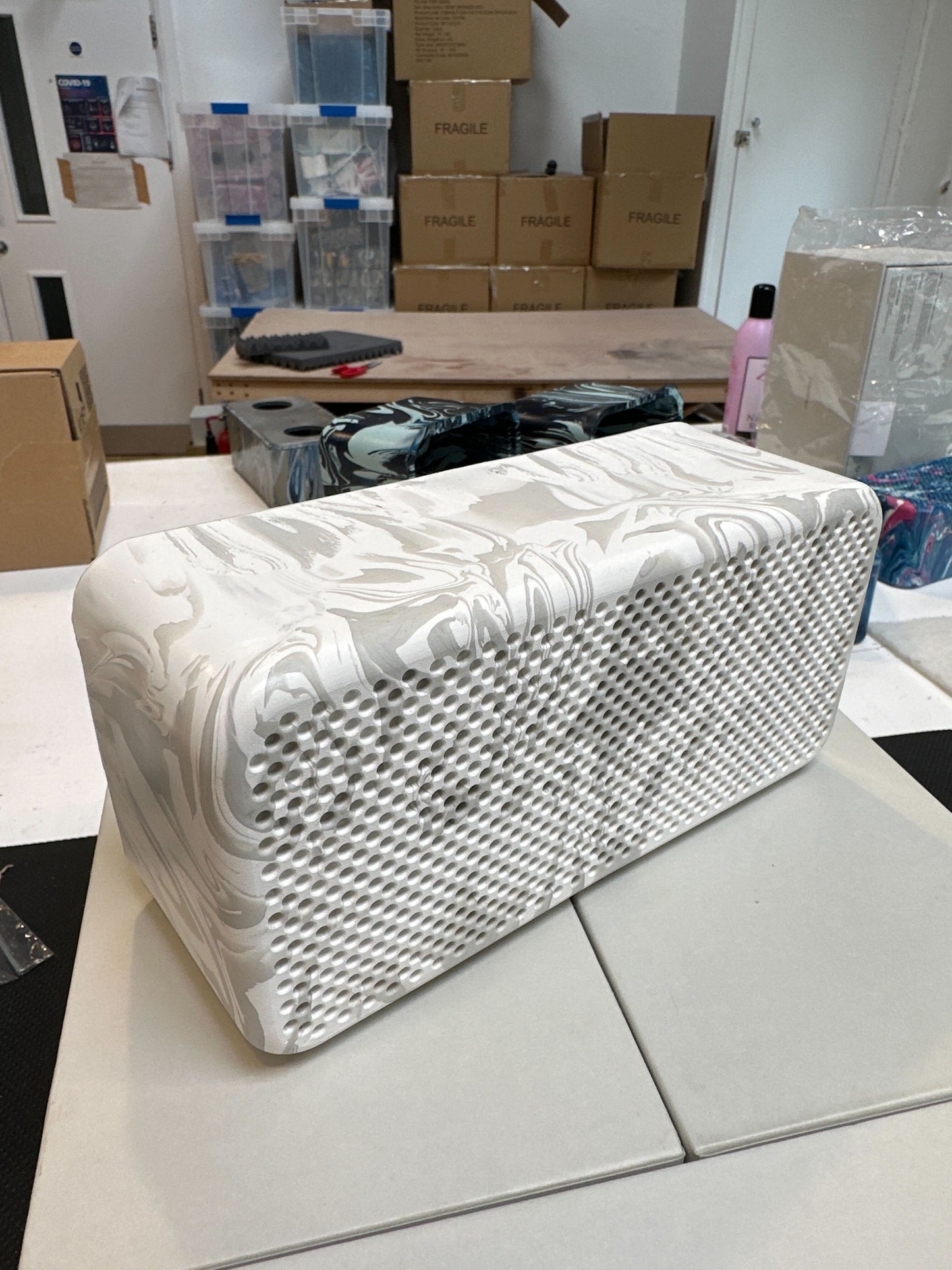 SEE HOW YOUR SPEAKER IS HAND-MADE IN OUR BRIGHTON STUDIO
WHAT OUR OWNERS HAVE TO SAY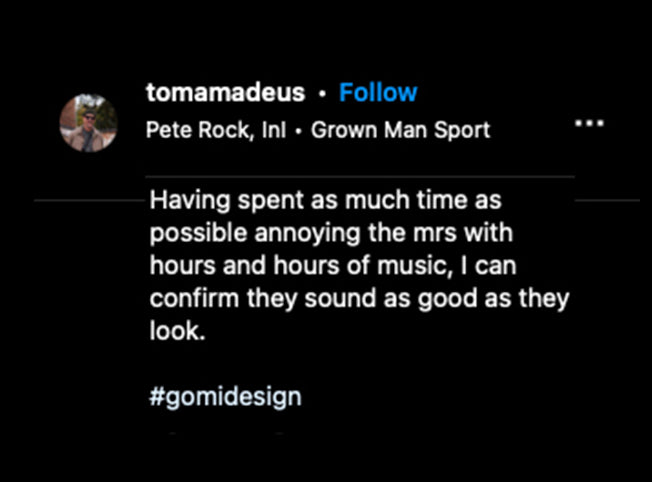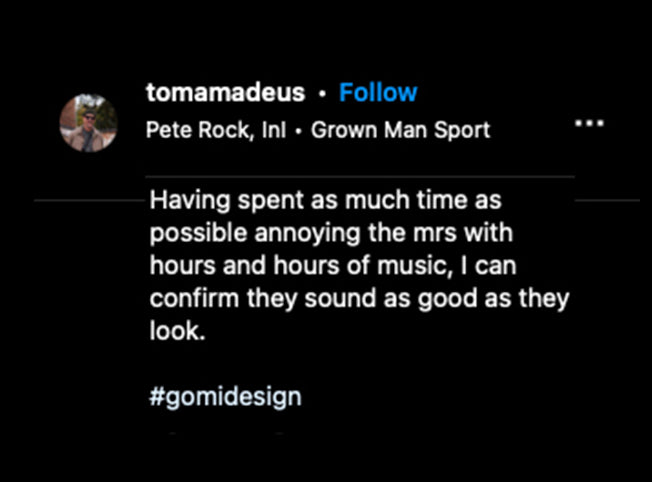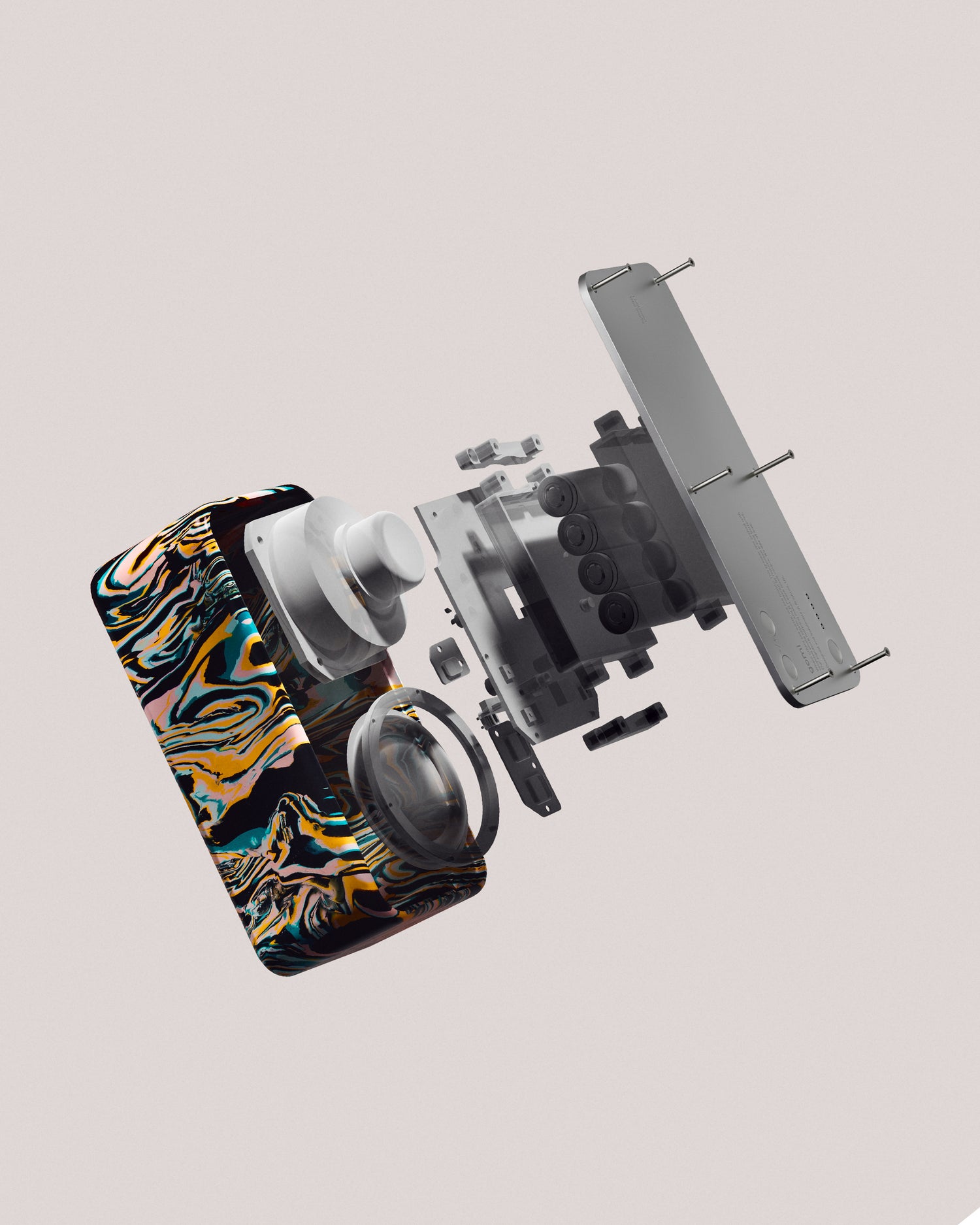 Sound ⸻
that speaks for itself
Powered by a full-range neodymium driver and an impressive bass radiator, the gomi gives you the highs and lows your music deserves.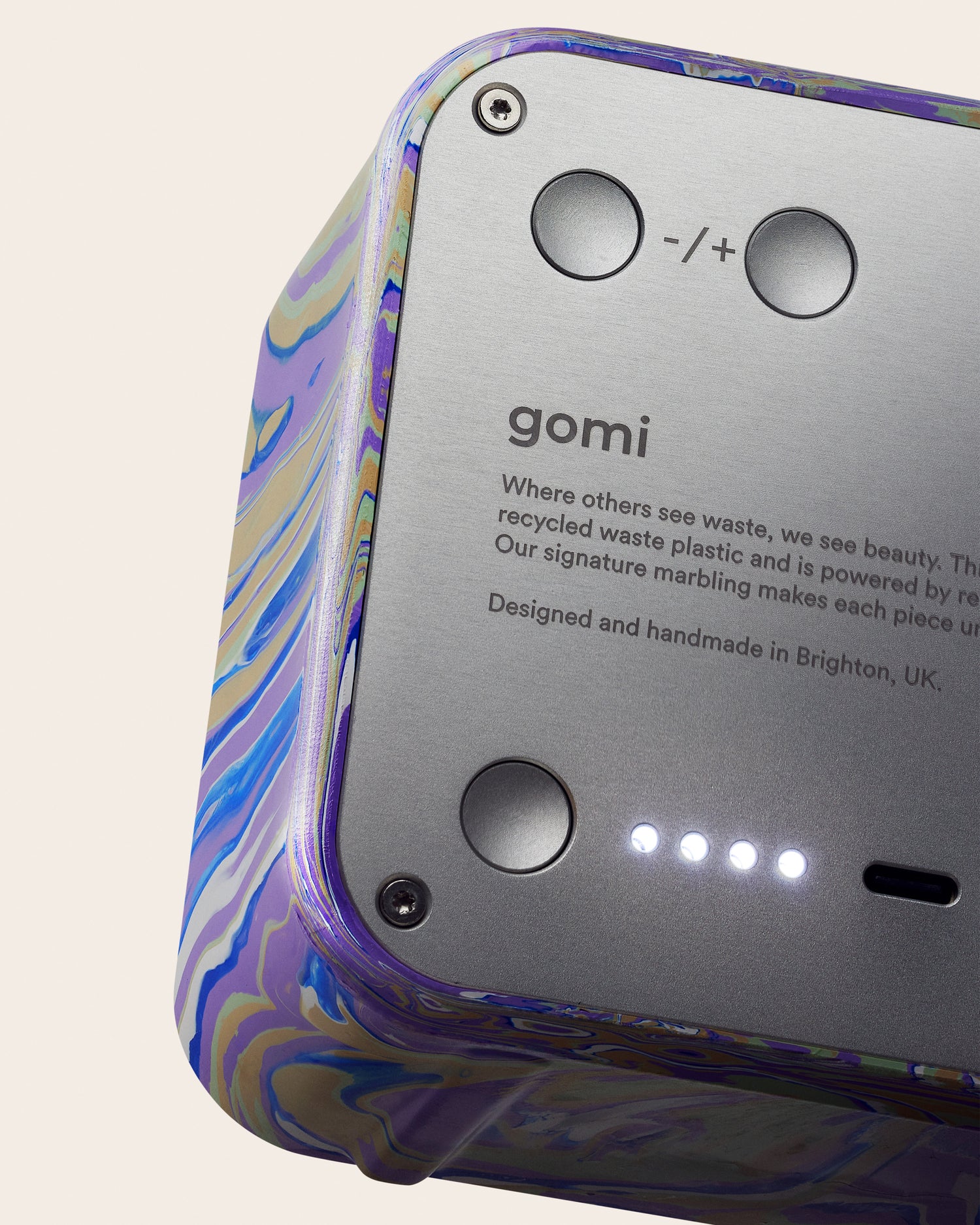 It's well
⸻ connected
Pair seamlessly to your phone or device with Bluetooth or plug in with the AUX for instant play. The gomi speaker has a wireless range of 10 metres. Connect two gomi speakers via Bluetooth for full stereo listening.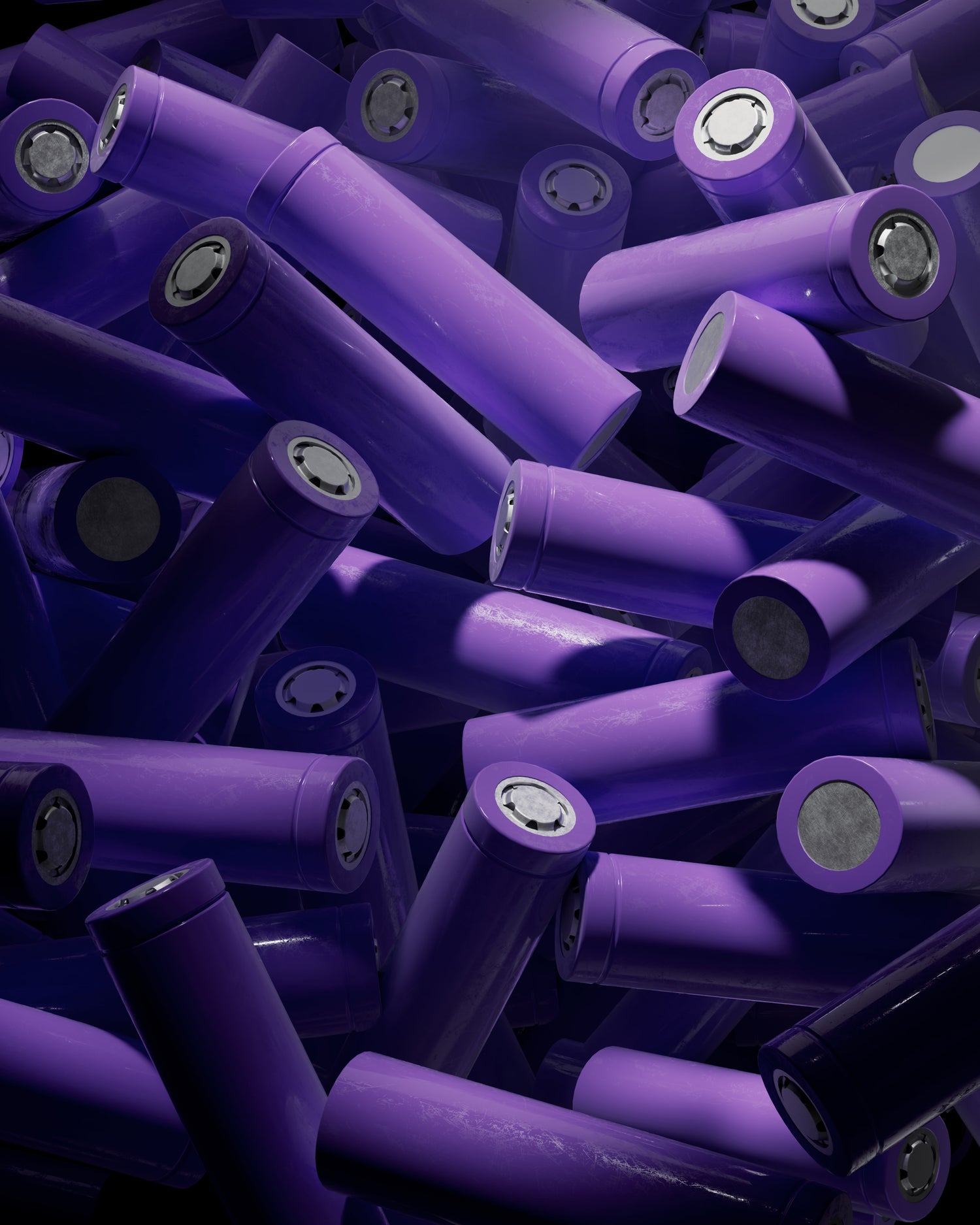 Playtime
⸻ extended
The gomi speaker is powered by quality-tested, second-life lithium cells recycled from e-bikes, giving 30+hours of non-stop listening from a single 2-hour charge.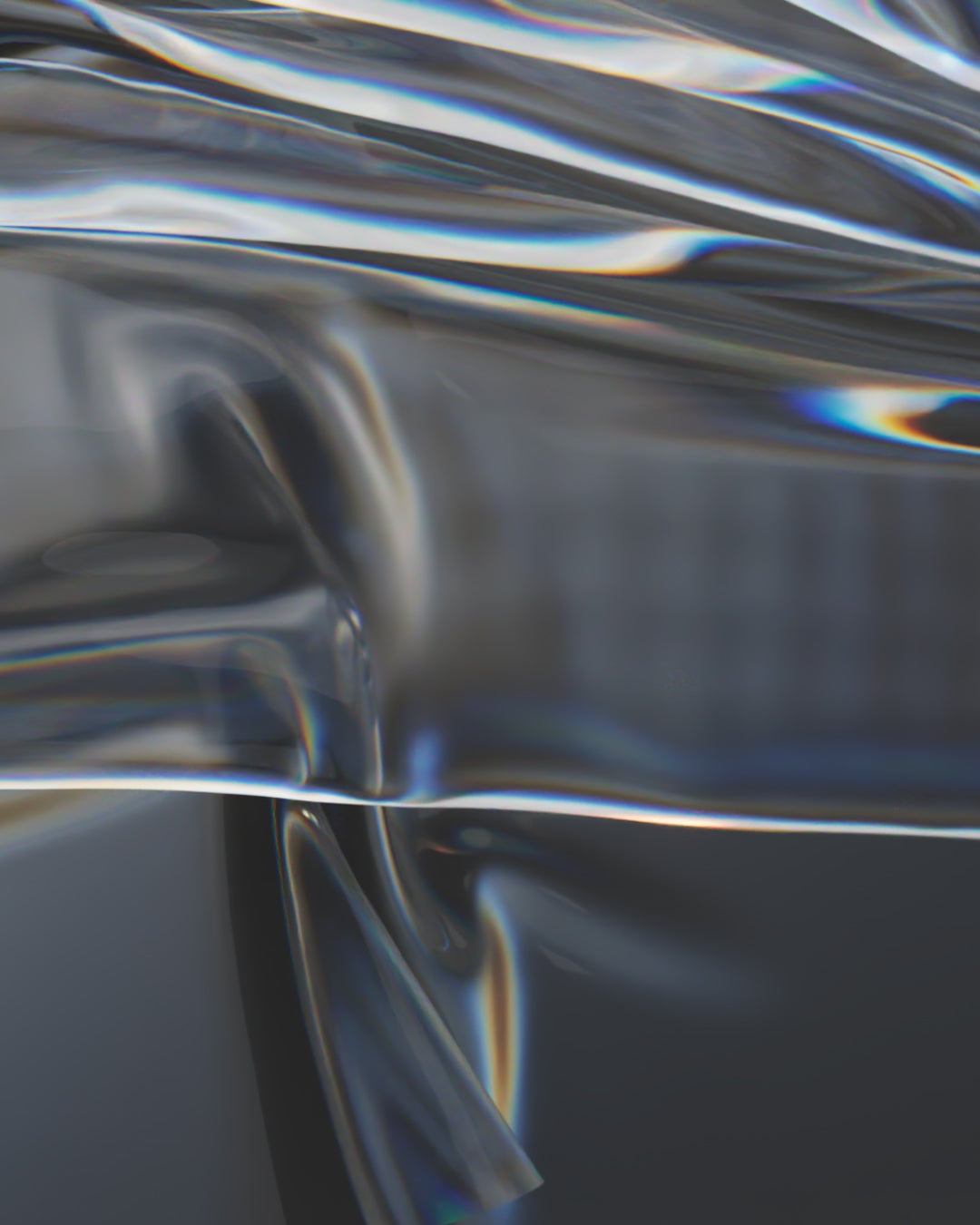 From recycled
⸻ materials
Our speakers are made from 100% 'non-recyclable' plastics sourced from waste flows around the UK. This, along with our use of second-life lithium batteries, makes it a truly earth-friendly speaker.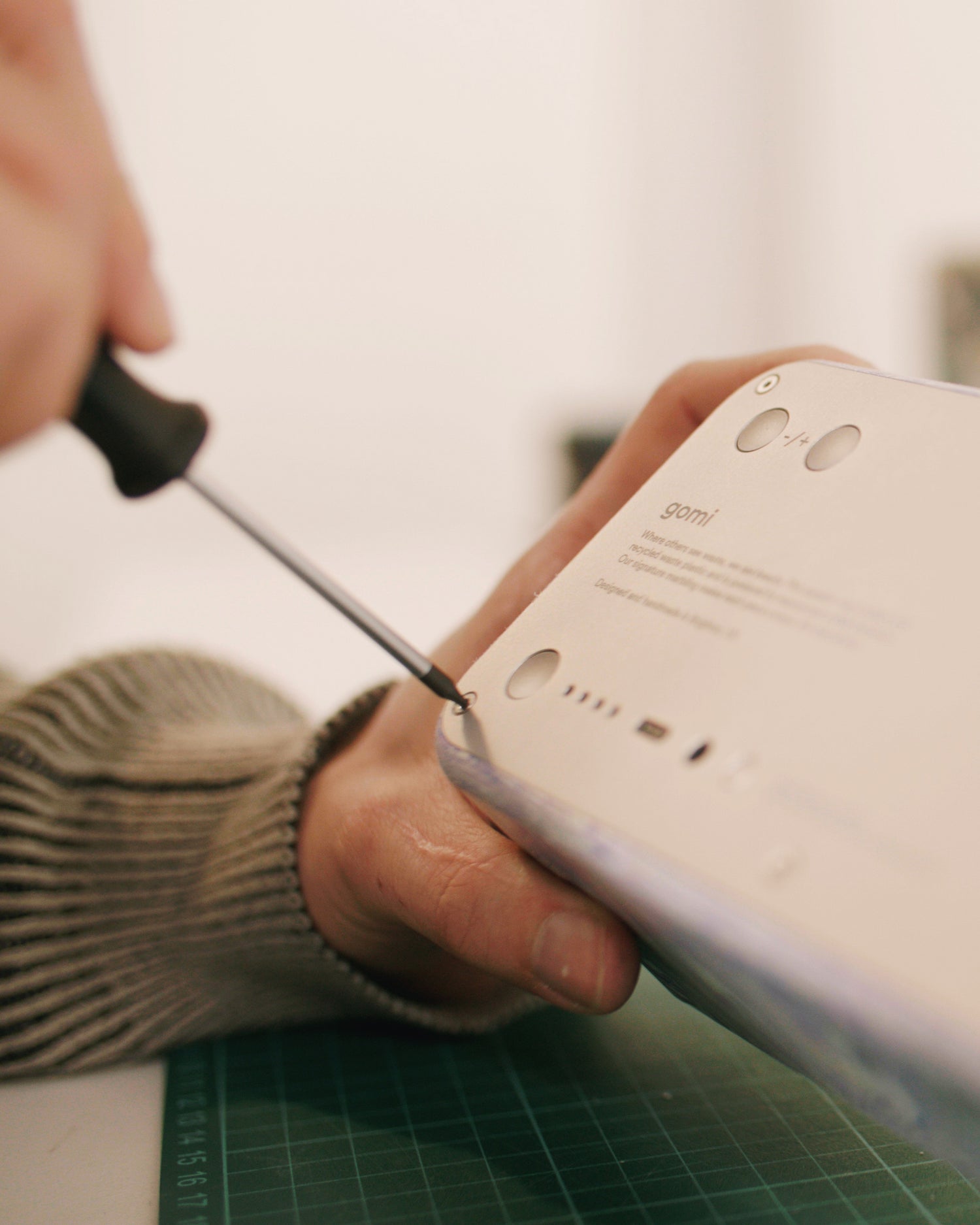 Fix ⸻
don't throw
Tonnes of electrical waste goes to landfill every second. We never want to add to that. That's why we'll repair your gomi speaker if something goes wrong.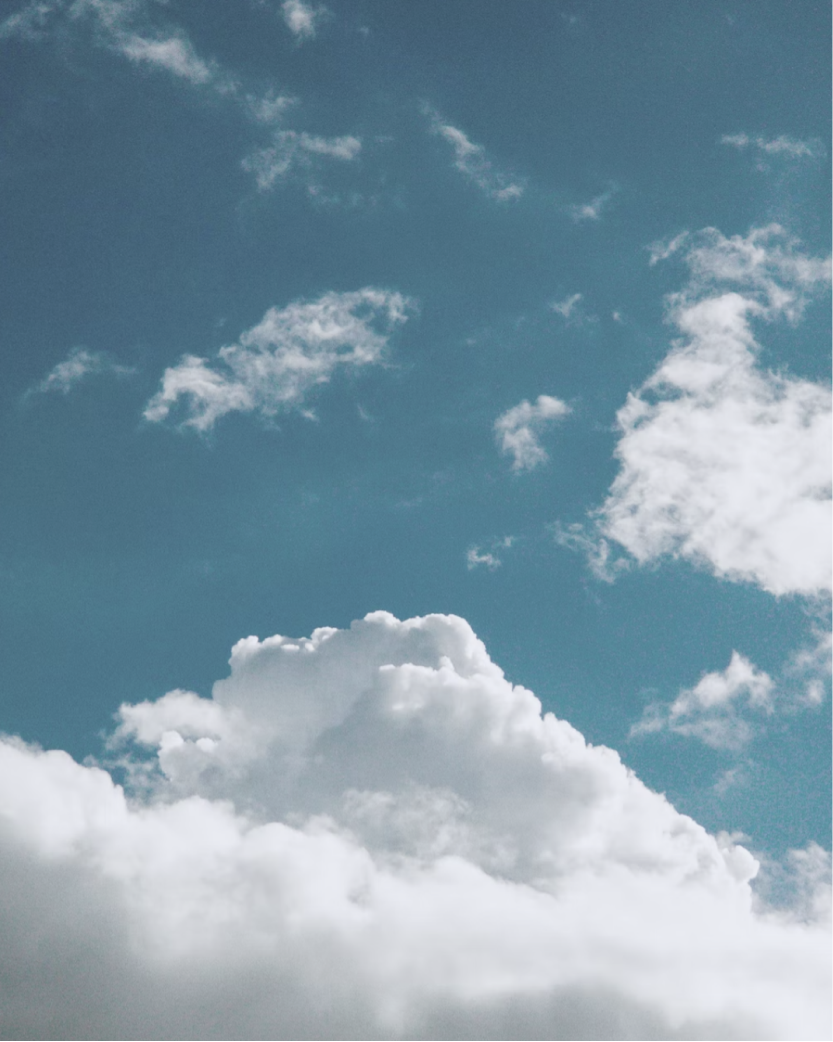 A reduced
⸻ Footprint
We're dedicated to reducing the carbon footprint of gomi. We've developed a speaker with less than 50% of the CO2 emissions of a comparable market-leading speaker through our unique manufacturing process, and we package our speakers in fully recyclable materials.
Technical specifications
Dimensions
200mm (W) x 95mm (H) x 70mm (D)
Power Input
USB-C (Rated Capacity: 44 4Wh, 5V/2A, 9V/2A, 15V/2A, 20V/1.5A)
Battery life
30+ hours at normal listening volume
Charge time
2 hours, using 30W power source
Connectivity
Bluetooth 5.0, 3.5mm AUX input, TWS pairing with another gomi collection one speaker for stereo sound
Frequency response
(-)10dB points 75Hz - 20kHz
Driver diameter
3 inch full range neodymium driver (7.6cm)
App required for operation
None required. Standard Bluetooth or AUX only
CO2e
9.06kg (50.4% less than a market leading equivalent Bluetooth speaker of same size and weight)
Included in the box
gomi speaker, 2m USB-C to USB-C charging cable, manual, USB-C PD wall plug not included
FAQ
Where are the speakers made?
They are made in the gomi studio in the heart of the Brighton Lanes, in the UK.
See the About the Studio page for more information.
What payment methods are available?
The latest information is always shown in the checkout stages of making an order, but we accept all major credit and debit cards, as well as Apple Pay, Google Pay and PayPal.
I wish to send a gomi product as a gift to someone, what options do I have?
During the checkout phase of making a purchase, you are able to set a different shipping address and billing address.
However, all order confirmations, purchase receipts (including price information) and delivery notifications will go to the one email address that you provide.
If it is not suitable for these messages to go one email address, we recommend to send us a quick message before you purchase at support@gomi.design to make sure everything goes smoothly.
gomi will not include a printed receipt in with the package, so the price paid will not be shown to the recipient.
Order receipts and payment confirmations are managed via email confirmations only.
We do not currently offer gift wrapping or personalised notes to be added to the order. If this becomes available in the future, it will be made available during the checkout process.
Where do you ship to?
Free shipping is available for all addresses in the United Kingdom, including
Mainland UK
Northern Ireland
Scottish Highlands and Islands
Channel Islands
Isle of Man
Isles of Scilly
Free shipping is also available to USA
We do not offer shipping to other locations at this time, but submit your email in the section at the bottom of this page to be the first to know when we add new shipping areas to our store.
If you have a suggestion of the next shipping area we should add, let us know at support@gomi.design
Information about the couriers we use and other related subjects are available on our shipping information page
How long does shipping take?
Usually shipping takes 2-4 business days for orders to UK addresses and up to 8 business days for international orders.
We will send your speaker by tracked delivery and you will receive notifications by email and SMS (if you provided this detail at checkout).
We will ship your speaker out as soon as it is available and we will keep you up to date by email.
If it has been more than 10 business days, please contact us to check on progress:
support@gomi.design
Can I buy or collect a gomi speaker from your Brighton studio?
Collection from our studio in the heart of The Lanes in Brighton is usually possible.
Please contact us before you make an order to arrange a suitable time for collection.
support@gomi.design
Where can I find more information?
Take a look at our full FAQs page for deeper information about our speakers, and information on how you can contact us.
gomi ⸻ at home